Parkview Riding Center Sponsers clinic by Raul de Leon
By Paul Campbell
'To dance with the horse.' This was the goal Raul de Leon advised students to aim for at a clinic held at Parkview Riding School in Central Islip this May.
The clinic, sponsored by the Parkview Riding school, was held on May fourth, with over twenty five riders of varing skill levels attending. Marge Mineri, owner of the school, expained her goal was "to provide riders with as many educational opportunites as possible". The clinic was organized by Sue Mercil, an instructor at Parkview Riding Center. Ms. Mercil is a graduate of the International Equestrian Institute at Morven Park, and formerly an instructor with Ball State University's equestrian program.
At the clinic, Mr. de Leon delivered a one-hour lecture on proper riding techniques. A true gentleman of the sport with an engaging style, he used simple language and humor to explain techniques which are often quite complicated.
As the former director of the International Equestrian Institute at Morven Park, as well as the recipient of the ARCIP international Instructor of the year award, Mr. de Leon's reputation preceded him. Throughout the hour long lecture, Mr. de Leon's years of experience in instruction were evident.
As many students took detailed notes, Mr. de Leon schooled participants in the finer points of horsemanship. "A Horse understands consistancy" he advised, and stressed the importance of discipline to riders. He urged riders to "do your homework" and "educate yourself in horsemanship and show up for your lesson prepared." The veteran clinician explained that resources, books and videos are available and can be invaluable in the learing process. Throughout the lecture Mr. de Leon emphasized "the basics": 'advanced riding consists of the basics with improved form and consistancy', he stated.
Following the lecture students had a chance to put what they had learned into action. Under the
trained eye of Mr. de Leon, clinic rides were held. Parkview Riding Center's expansive and well groomed indoor arena provided an exellent venue for students to demonstrate their skills. During the rides, Mr. de Leon took time to give those instructors present advice as well. He stressed the importance of getting to know students' horses. 'Take the time to familiarize yourself with the animals' weaknesses and strenghts' and thus gain greater insight into what the student is experiencing. Mr. de Leon then put his advice into action, by mounting several horses during the clinic rides. The change in the horses' form was quickly noticable under the firm hand of Mr. de Leon.
Those in attendance found it to be a memorable learning experience. One rider ( who will remain anonymous), remarked ' I wish I had taken a clinic ride sooner, before I developed my bad habits!'
Others attending inquired as to when the next clinic would be held, while discussing new concepts they had learned.
The clinic with Mr. de Leon proved to be a great success. Marge Mineri stated that Parkview Riding Center plans to hold more clinics and instructors' seminars with Mr. de Leon in the future.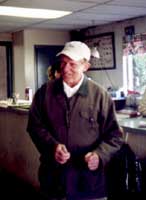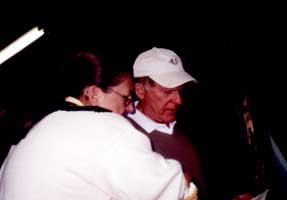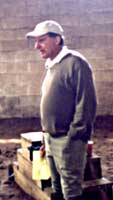 Ms. Mercil and Mr de Leon.
Photos Paul Campbell